Aurora prediction page

Noršurljósaspį

Jan. 2012
Sept 2017

Fróšleikur um uppruna og ešli noršurljósa

Fjöldi męla sem geta komiš aš gagni til aš sjį hvort von sé į noršurljósum.

4.okt.2013: Nś ętti aš vera virk bein tenging viš spįlķkan fyrir sólvindinn žar sem stundum mį sjį kórónuskvettur stefna til jaršar. WSA-Enlil Solar Wind Prediction.

Vefslóšir eru sķfellt aš breytast og geta žvķ oršiš óvirkar žar til sķšan hefur veriš lagfęrš.

--- --- ---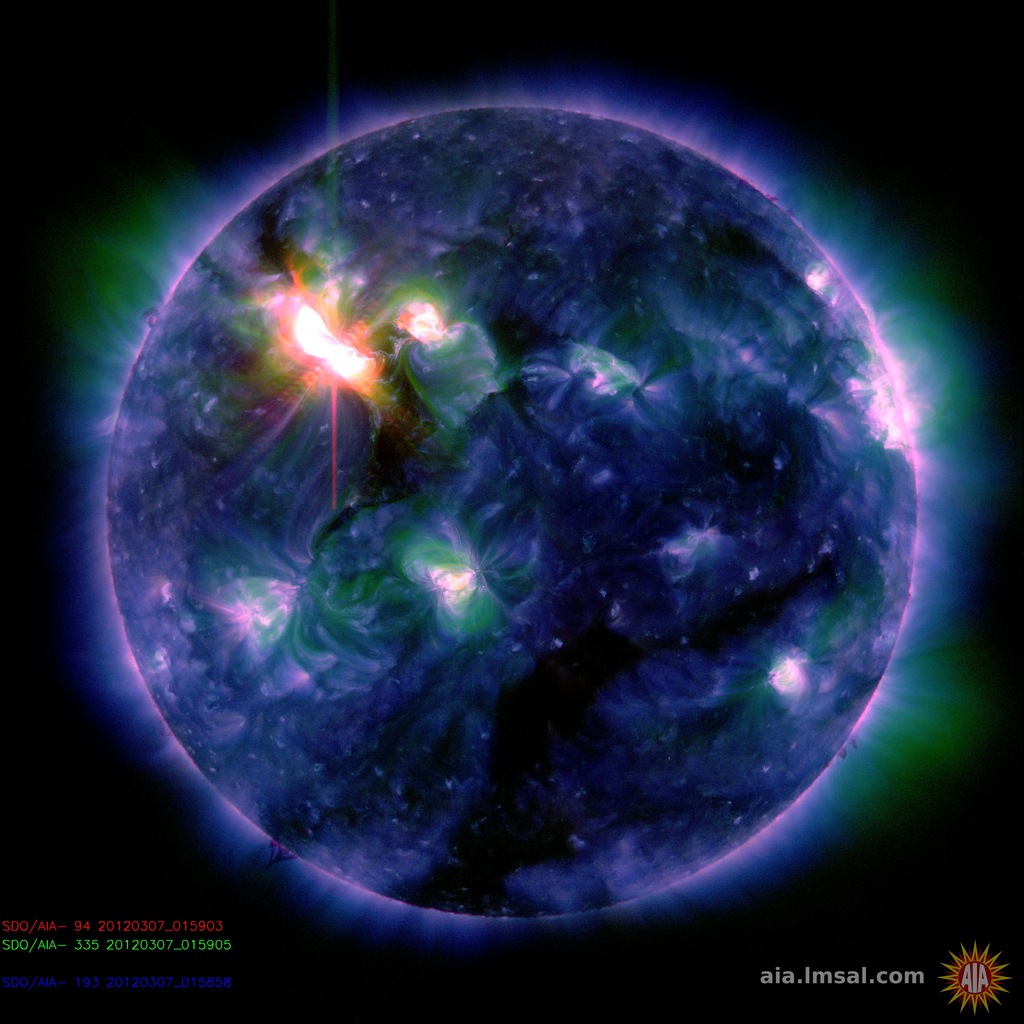 www.Spaceweather.com

http://spaceweathernews.com

Current solar status:


Geomagnetic conditions:

Segulmęlingastöšin Leirvogi
Ef töluverš ókyrrš sést hęgra megin į ferlinum, žį er lķklegt aš noršurljós séu yfir Ķslandi.
Sjį dęmi nešst į žessari sķšu.
Leirvogur Iceland Magnetic Observatory
http://cygnus.raunvis.hi.is/~halo/leirvogur.html?fref=gc

http://www.raunvis.hi.is/~halo/haloft.html
*** ***
Segulmęlingastöšin ķ Kiruna, N-Svķžjóš:
http://www2.irf.se//Observatory/?link=Magnetometers
Noršurljósin séš frį geimnum:
Auroral Activity Extrapolated from NOAA POES: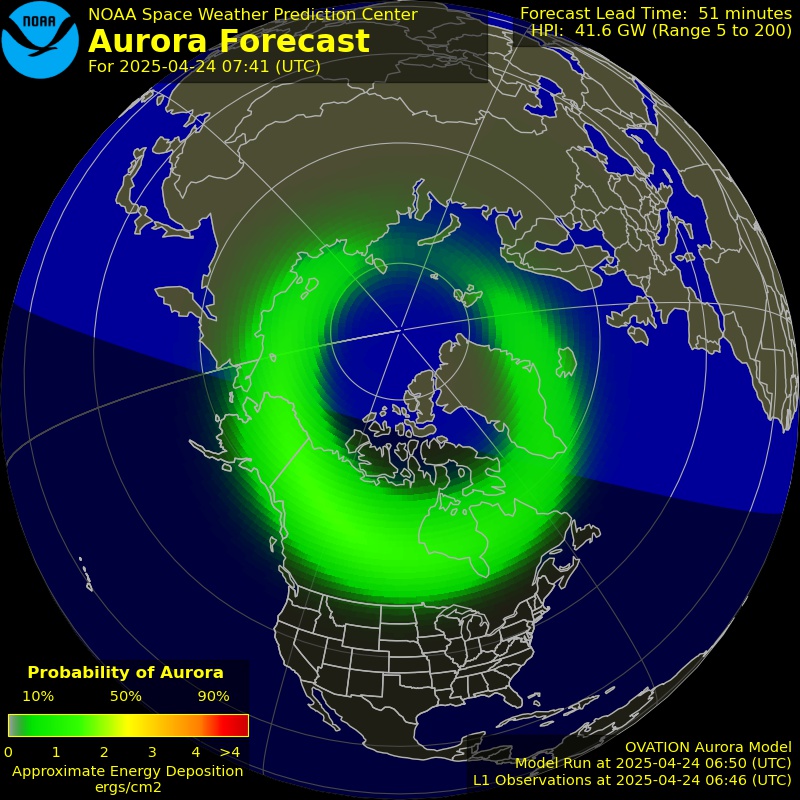 Noršurhvel
Takiš eftir dagsetningu og tķma efst til hęgri

http://services.swpc.noaa.gov/images/animations/ovation-north/latest.png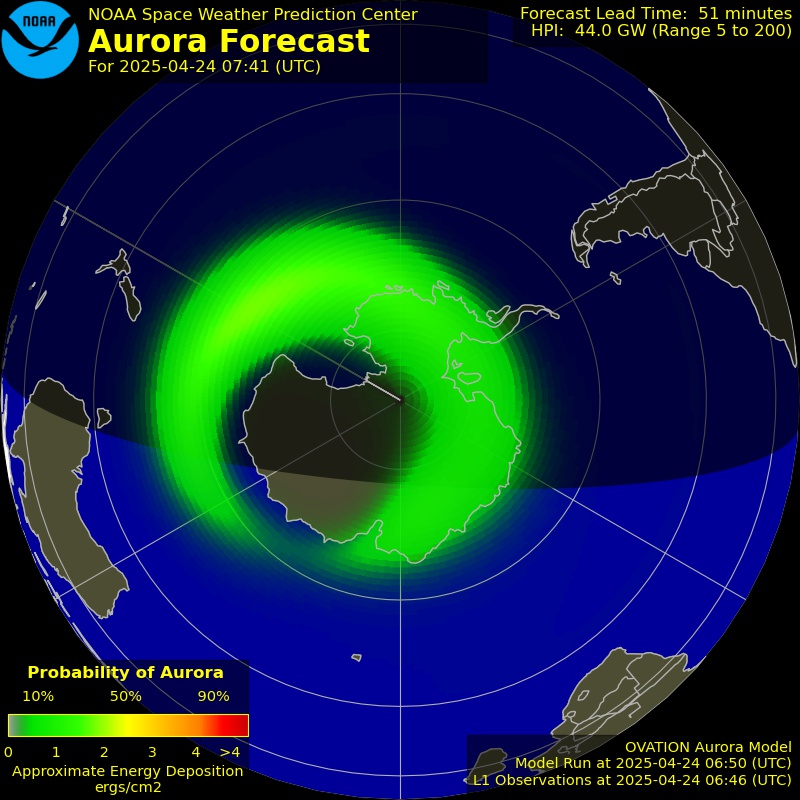 Sušurhvel
--- --- ---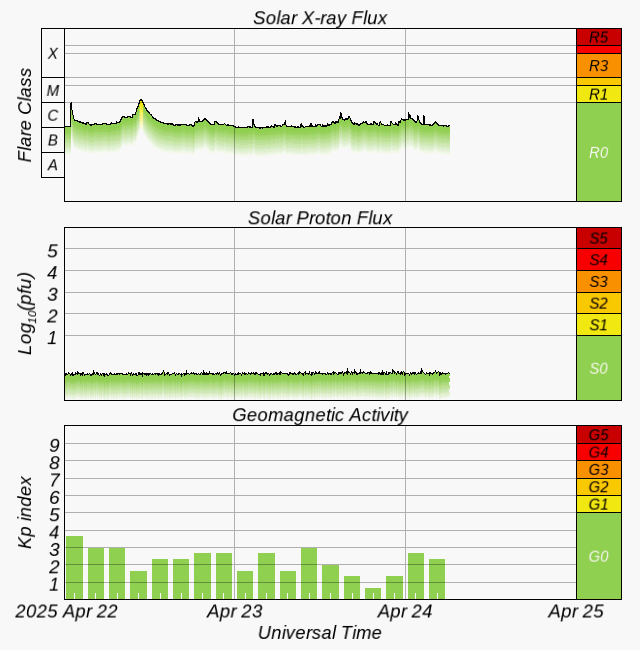 Įhrif sólar į jöršu
Solar-Terrestial Data
Segulsviš jaršar
K-gildiš er męlikvarši į truflanir ķ lįréttu segulsviši jaršar, mešaltal yfir 3 klst. K-gildiš er frį 1-9, žar sem 1-2 er frekar rólegt en 5 og yfir flokkast sem segulstormur sem hefur mjög truflandi įhrif į śtbreišslu rafsegulbylgna. (Hiš nįskylda A-gildi er mešaltal K-gilda yfir sólarhringinn).
Heimild: http://www.ira.is/pages/viewpage.action?pageId=688719
Sjį: NOAA Space Weather Prediction Center: The K-index
--- --- ---
Skilyrši til fjarskipta į stuttbylgjum
Short Wave Radio Propagation Conditions
http://www.hamqsl.com/solar.html
--- --- ---
D Region Absorption Predictions (D-RAP)
Conditions in the D region of the ionosphere have a dramatic effect on high frequency (HF) communications and low frequency (LF) navigation systems. The global D Region Absorption Predictions (D-RAP) depicts the D region at high latitudes where it is driven by particles as well as low latitudes, where photons cause the prompt changes. This product merges all latitudes using appropriate displays, and is useful to customers from a broad base that includes emergency management, aviation and maritime users. [more]
--- --- ---
Below is the ACE spacecraft data measuring the latest Solar Wind and Bz Components.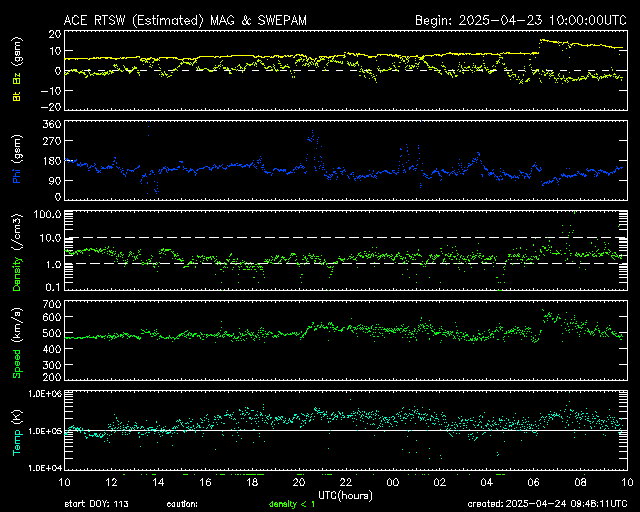 Information
The ACE Spacecraft is located between the Sun and Earth. When solar flares take place, the explosion can sometimes propel Coronal Mass Ejections (CMEs) towards earth. Special instruments on board of the ACE Spacecraft can detect sudden increases in Solar Wind and other important data. This can be used as an early warning system for an incoming earth directed CME.
ACE Website. http://www.swpc.noaa.gov/ace/index.html
--- --- ---

Skemmtileg vefsķša til aš fylgjast meš geimvešrinu. Smella į mynd!
Integrated Space Weather Analysis System. Click on image!
http://iswa.gsfc.nasa.gov/iswa/iSWA.html
--- --- ---
Rice Space Institute:
http://mms.rice.edu/realtime/forecast.html
Boyle Index (Asymptotic Polar Cap Potential)
GOES satellite Magnetometer
(Updates every 5 minute)
http://www.swpc.noaa.gov/rt_plots/mag_3d.html
*********************
https://iswa.gsfc.nasa.gov/IswaSystemWebApp/iSWACygnetStreamer?timestamp=2038-01-23+00%3A44%3A00&window=-1&cygnetId=261

Lķkan er spįir fyrir um hvenęr kórónuskvettur (Coronal Mass Ejection) lenda į jöršinni, ef slķkar eru į leišinni meš sólvindinum.

Model showing Coronal Mass Ejection arriving with the solar wind

Some older browsers don't support iframes.

If they don't, the iframe will not be visible.

http://www.spaceweatherlive.com/en/solar-activity/wsa-enlil

*********************
Sólblettatalan. Uppfęrt mįnašarlega.
Solar cycle sunspot number. Updated monthly.
http://www.swpc.noaa.gov/SolarCycle/
Ap Index. Uppfęrt mįnašarlega.
Sólsveiflur sķšustu hįlfa öld. Uppfęrt mįnašarlega.
Solar cycles since 1955. Updated monthly.
http://sidc.oma.be/sunspot-index-graphics/sidc_graphics.php
Nešsti ferillinn sżnir sólblettatölu. Ferillinn nęr yfir eitt įr žannig aš upplausn er mikil.
Bottom graph shows sunspot number in high resolution.
http://www.leif.org/research/TSI-SORCE-Latest.png
From Leif Svalgaard's Research Page
Solen.info – Jan Alvestad
Solar Terrestial Activity Report
Solen.info – Jan Alvestad
Nśverandi sólsveifla nśmer 24, og žrjįr fyrri sólsveiflur, nśmer 21,22 og 23. Nśverandi sveifla sem nęr hįmarji 2013 ętlar greinilega aš verša töluvert minni.
A graphical comparison of solar cycles 21, 22, 23 and 24
http://www.solen.info/solar/cyclcomp.html
UNIVERSITY OF DELAWARE
BARTOL RESEARCH INSTITUTE
NEUTRON MONITOR PROGRAM
http://neutronm.bartol.udel.edu
http://www.solarham.net/pictures/regions.jpg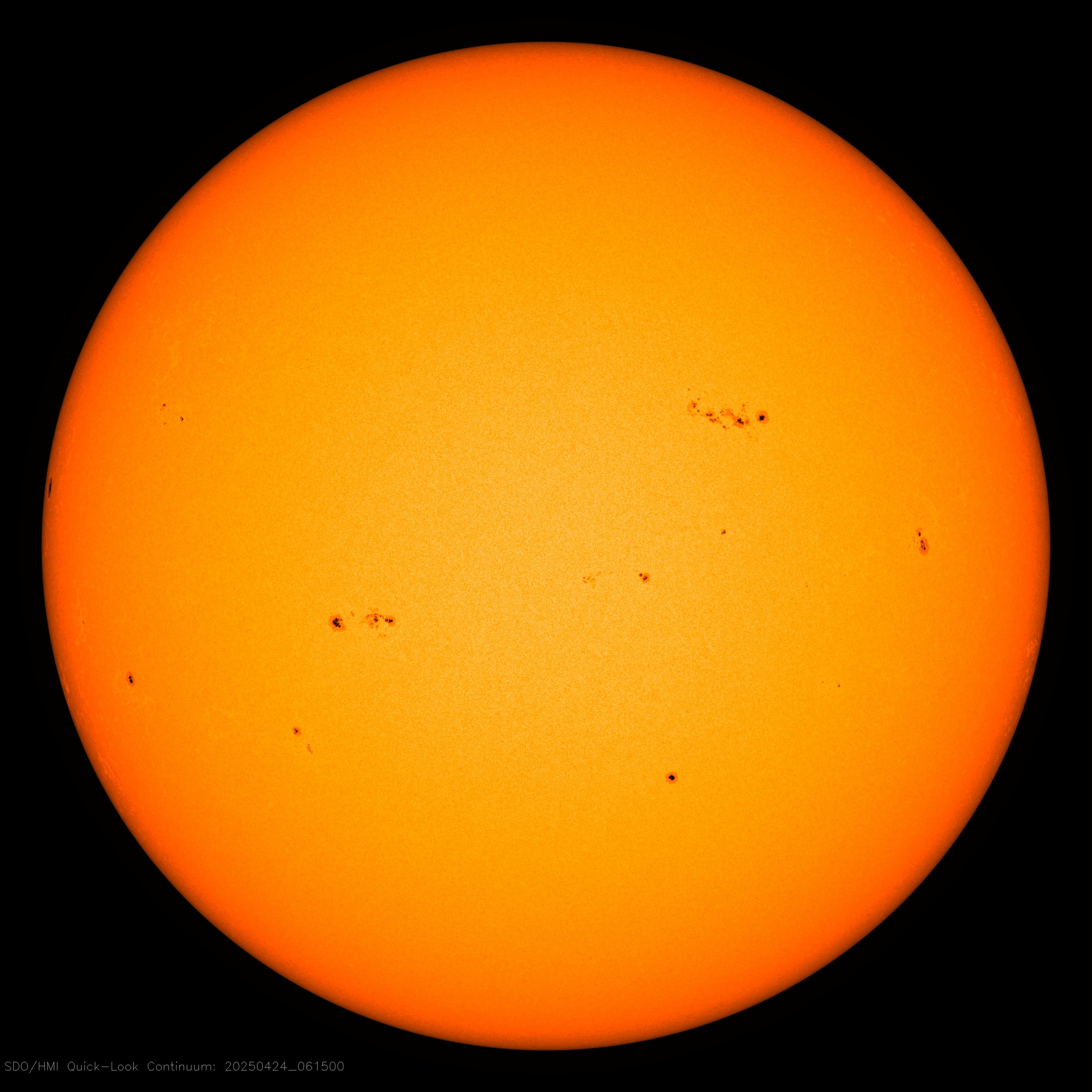 http://sdo.gsfc.nasa.gov/assets/img/latest/latest_2048_HMIIC.jpg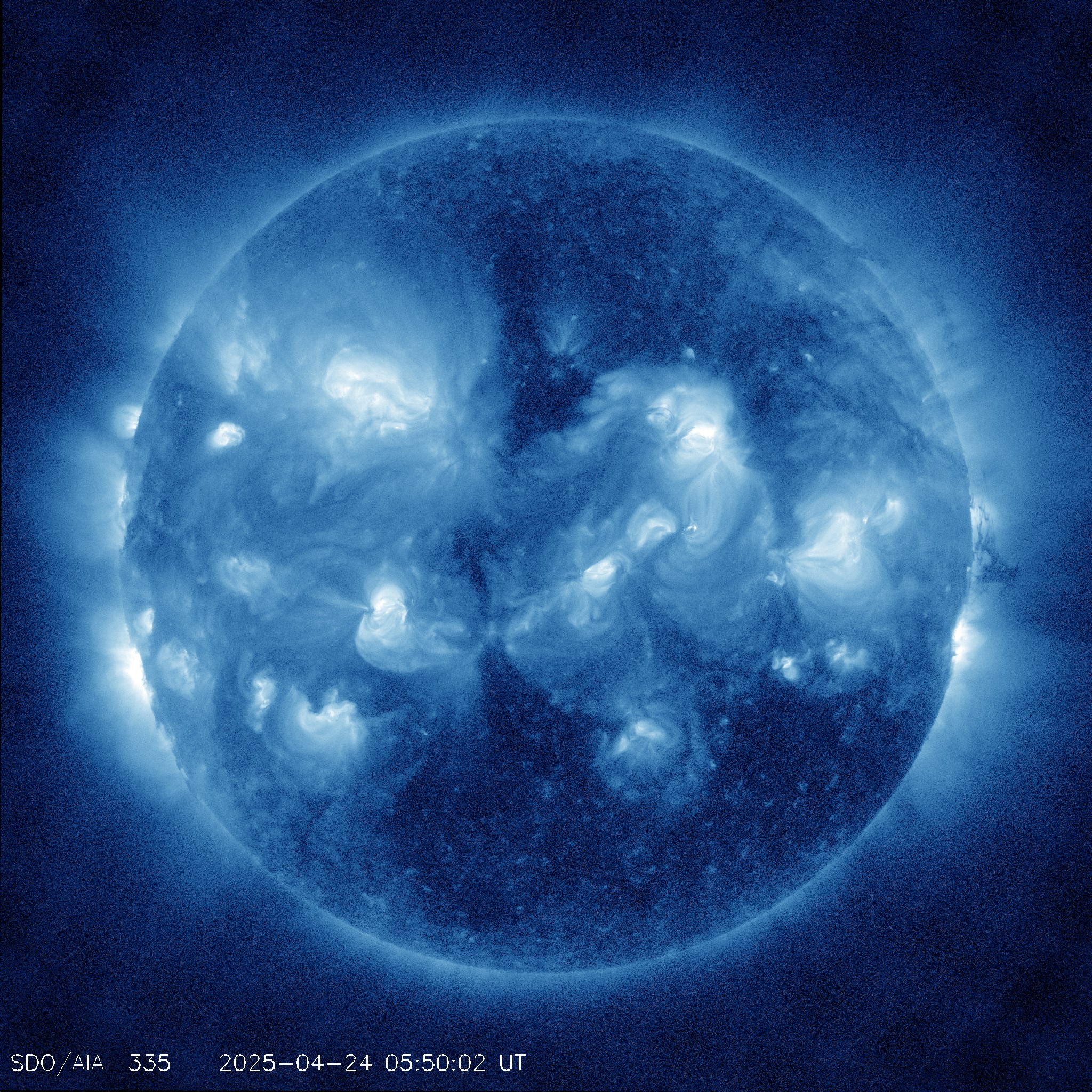 Sólin ķ dag
--- --- ---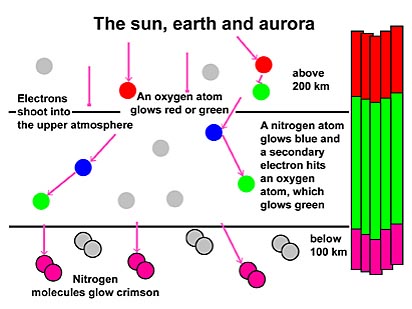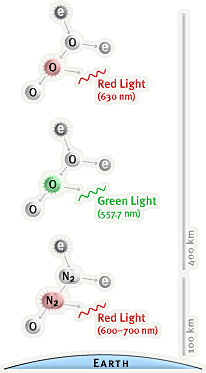 Skżring į mismunandi litum noršurljósanna
Why is the aurora green, red or purple?


Rauš noršurljós eru komin frį sśrefni ķ mikilli hęš, ž.e. 200-400 km. Sśrefni (oxygen) er tįknaš meš "O" į myndunum hér aš ofan.

Skęr gulgręnn og gręnn litur er algengastur og kemur hann frį sśrefni ķ um 100-200 km hęš.

Blįr og fjólublįr litur kemur frį jónušum köfnunarefnissameindum (nitur, nitrogen), en raušur litur kemur frį óhlöšnu köfnunarefni. Köfnunarefnis- eša nitursameindir eru tįknašar meš "N2" į myndunum.

Viš nešri rönd noršurljósanna sést stundum purpuraraušur eša raušfjólublįr litur sem einnig kemur frį köfnunarefnis- eša nitursameindum.
--- --- ---
Noršurljósamyndir teknar um klukkan 22:30 laugardaginn 10. september 2011
Pictures shot near the famous geothermal area Geysir in Iceland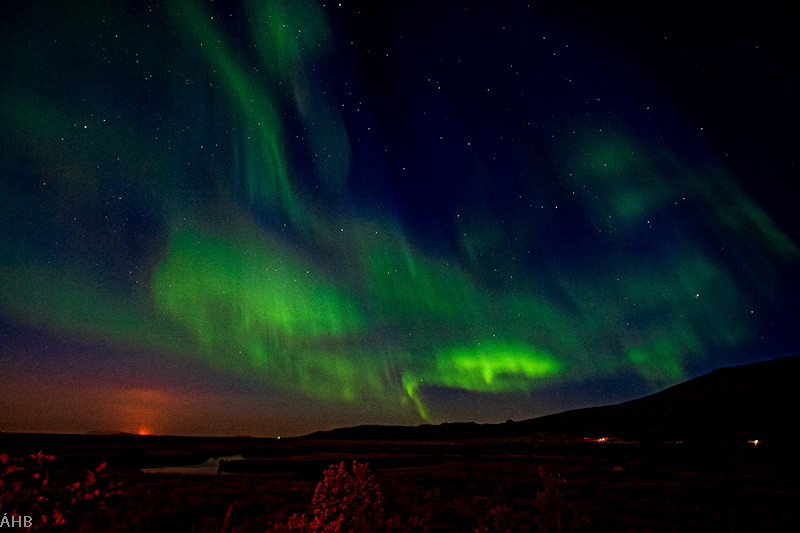 Horft til sušvesturs. Bjarminn er frį gróšurhśsum ķ Reykholti Biskupstungum
The orange light is light pollution from greenhouses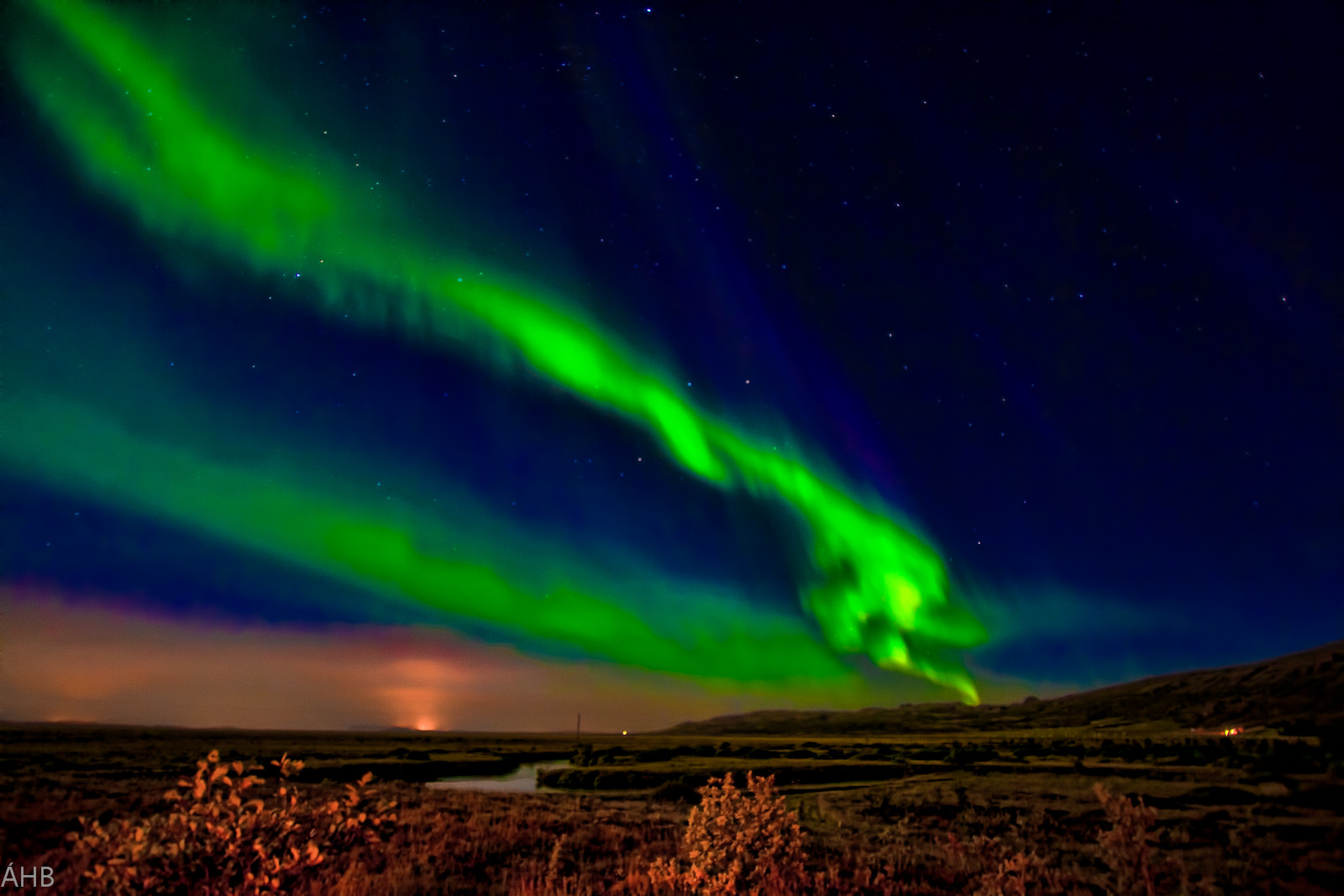 Skin frį tungli lżsti upp landslagiš ķ fjarska, en skin frį stofuglugga lżsti upp forgrunninn.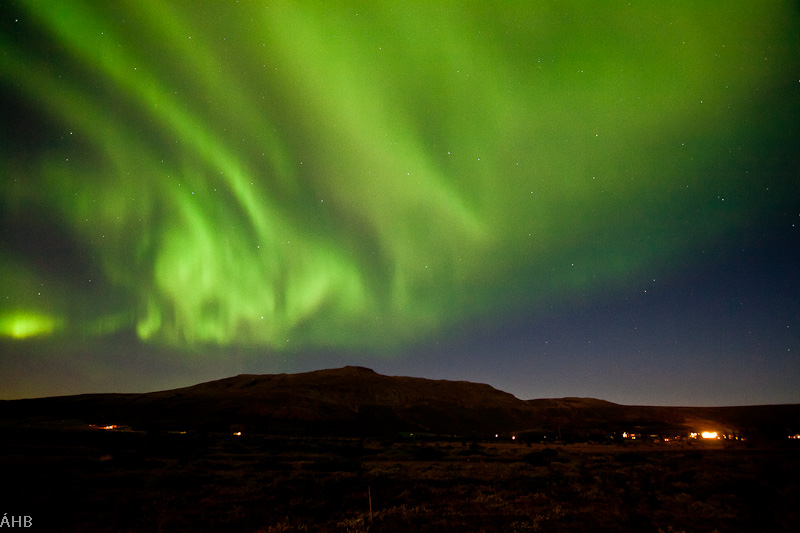 Horft til noršvesturs. Karlsvagninn sést vel į himninum.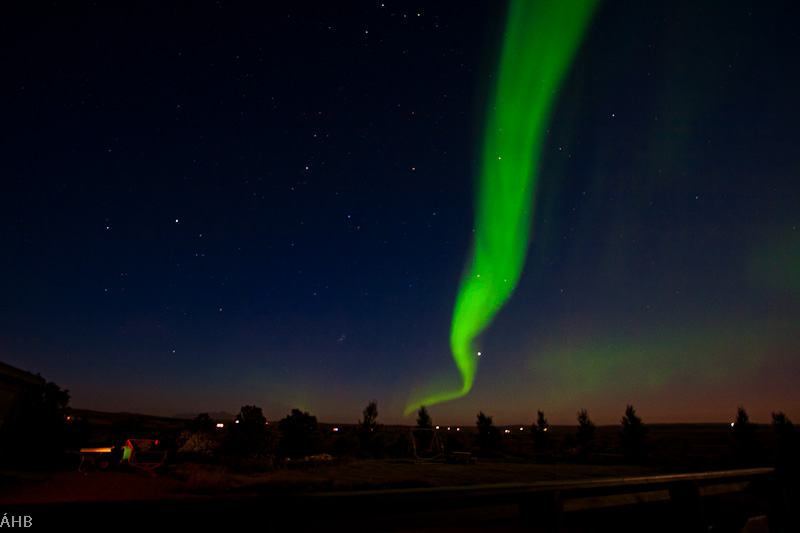 Horft til norš-austurs ķ įtt aš Blįfelli į Kili.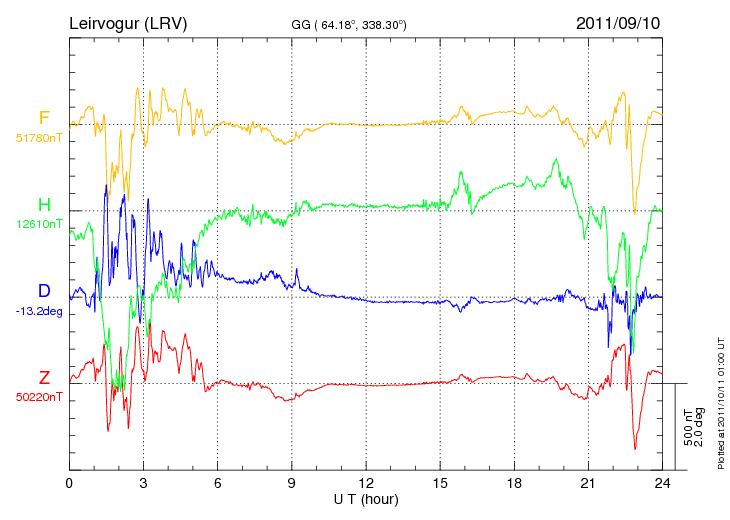 Ferill frį 10. sept. 2011
Noršurljósamyndirnar voru teknar aš kvöldi 10. sept. 2011, klukkan 22:30.
Žį var grķšarleg ókyrrš į męlunum ķ Leirvogi.
The Leirvogur Iceland Magnetic Observatory showed considerable activity when the aurora pictures were shot at 22:30.
---

---


Įgśst H Bjarnason verkfr.
TF 3 OM